Purina Horse Nutrition Makes A Difference You Can See
Our horse feeds and supplements are precisely formulated by leading equine nutritionists and experts to help your horse look their best and reach peak performance at every life stage.
Select Life stage
Breeding & Growing

Active Pleasure

Performance

Senior

Special Needs

Any Life Stage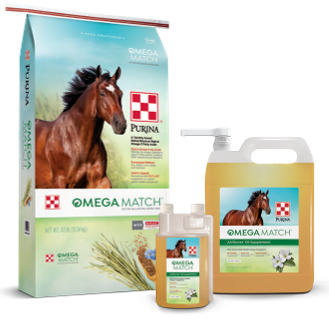 NEW Omega Match™ products
Two new products provide unique ways to get your horse meaningful levels of omega-3 fatty acids in a form he will love. Learn more about Omega Match™ Ration Balancer and Omega Match™ Ahiflower® Oil Supplement
Horse Products (30 products found)
What Customers Say About our products
Mackie
Product Purina® Outlast® Gastric Support Supplement
My 10 year old had absolutely SOARED on this product! I bought him and he was rated a 3/9 by my vet and had the worst gastric issues. I started him on this, and three months later, he's doing amazing! I HIGHLY recommend this product!!
Isabeau Mom
Product Purina® Omega Match™ Ration Balancing Horse Feed
I am so happy to see a product offered for those horses who need a limited diet with quality. With tons of allergies and sugar sensitivity.....this girl says thank you.