Provide deer the consistent nutrient intake they need to thrive with Purina® AntlerMax® Deer Block with Climate Guard ®. This 33.3-pound block is an 18% protein, water-resistant, fortified, and year-round supplement that attracts and maintains deer. Containing proprietary levels and ratios of essential vitamins and minerals, the AntlerMax® Mineral Technology provides a power-packed nutritional package that is backed by extensive research to support optimal antler density and strength, reproductive performance, and fawn health. The Purina® AntlerMax® Deer Block with Climate Guard® Supplement is formulated with high-quality ingredients and proprietary flavoring agents to optimize palatability and ensure desired consumption, making sure deer receive the benefits of a balanced diet. The patented Climate Guard® Supplement supports feed intake, comfort, and weight gain during climatic stress events.
Regular price
Sale price
$25.49 USD
Unit price
per
Sale
Out of Stock
View full details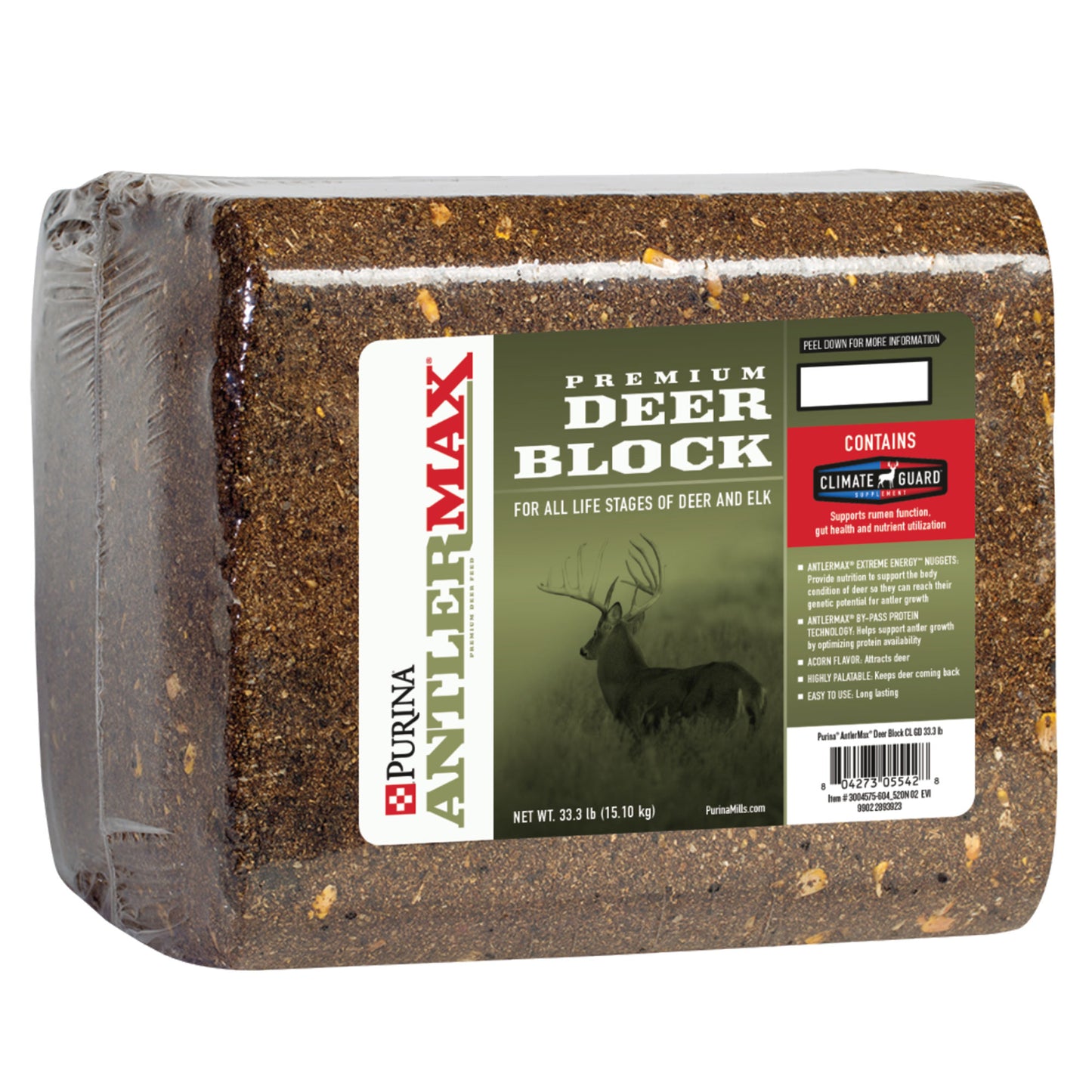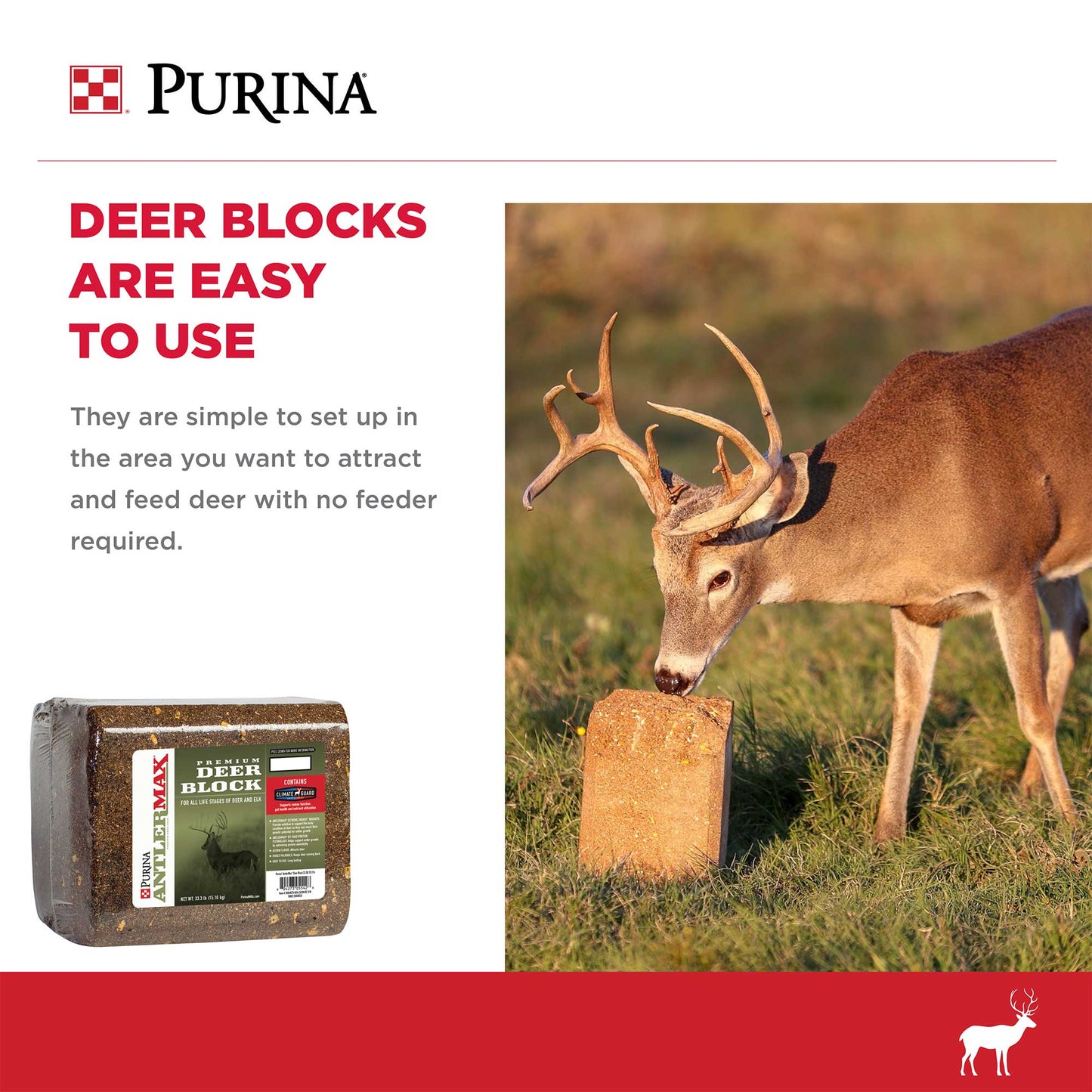 | | | |
| --- | --- | --- |
| Nutrients | Min / Max | Amount |
| Crude Protein | Min | 18.00% |
| Crude Fat | Min | 2.50% |
| Crude Fiber | Max | 8.50% |
| Calcium (Ca) | Min | 2.00% |
| Calcium (Ca) | Max | 2.50% |
| Phosphorus (P) | Min | 0.90% |
| Salt (NaCl) | Min | 2.50% |
| Salt (NaCl) | Max | 3.50% |
| Sodium (Na) | Max | 1.50% |
| Potassium (K) | Min | 1.00% |
| Selenium (Se) | Min | 0.60 PPM |
| Selenium (Se) | Max | 0.72 PPM |
| Vitamin A | Min | 10000 IU/LB |
Feed new and improved Purina® AntlerMax® Deer Block free-choice with access to adequate native forage or good quality hay. Place the block in areas frequented by animals, taking care not to touch the block as the wrapper is being removed. When placing the block out for the first time, place small amounts of corn, apples or carrots around the block to attract deer. Place close to a constant supply of fresh, clean water. Consumption will vary with deer density, season and availability of native forage.
Caution
This feed contains added copper and should not be fed to sheep. Follow label directions. Feeding added selenium at levels in excess of 0.3 ppm in total diet is prohibited. Not a complete feed. Do not place block on grass or lawn. Block may kill grass before it is completely consumed. Store in a dry, well-ventilated area protected from rodents and insects. Do not feed moldy or insect-infested feed to animals as it may cause illness, performance loss or death.
Special Considerations
Regulations for the feeding of big game can vary from state to state. Please check with your local game and fish department for the proper usage of this product.
Management Practices
A feeding program is only as effective as the management practices. Actual results can vary depending upon feed intake, environmental conditions and the quality of the management
For the widest selection of Purina products – along with personal service and know-how – check with your local retailer.