Purina® Omega Match® Ahiflower® Oil Supplement is truly an unrivaled omega source. Ahiflower® oil contains more omegas than other plant-based oils commonly fed to horses. The unique fatty acid profile delivers benefits associated with fish oil, evening primrose oil, olive oil, and flaxseed oil.
Regular price
Sale price
$40.49 USD
Unit price
per
Sale
Out of Stock
View full details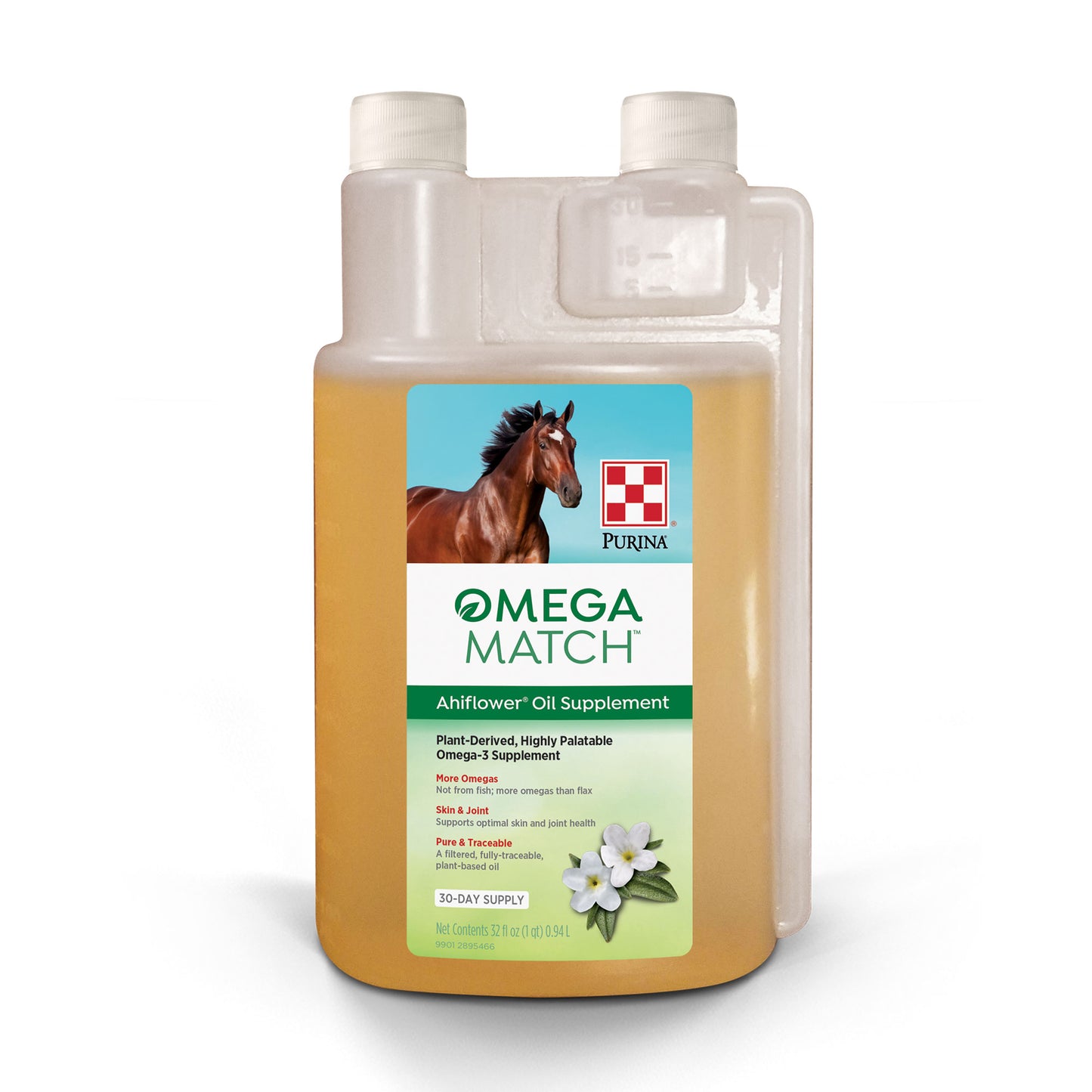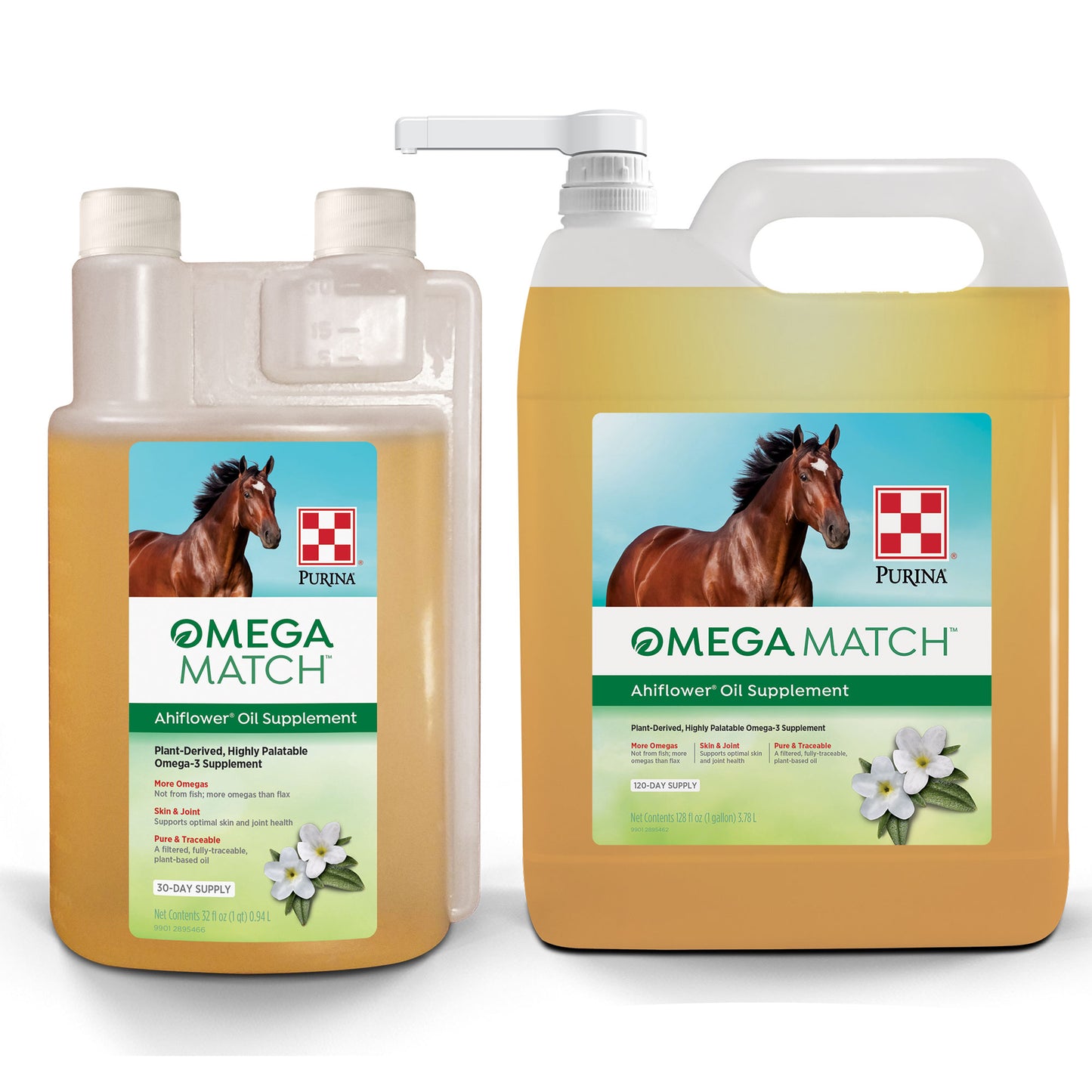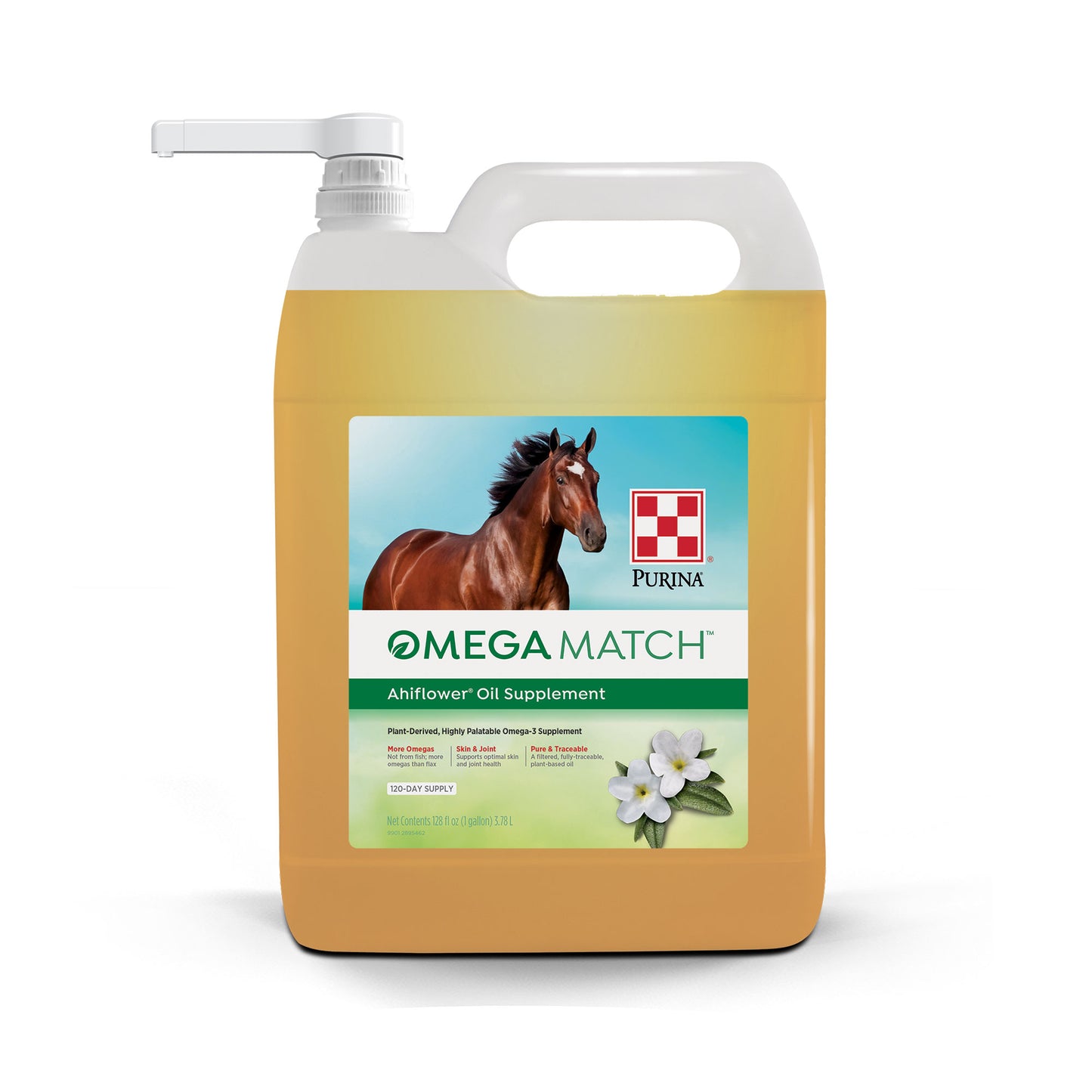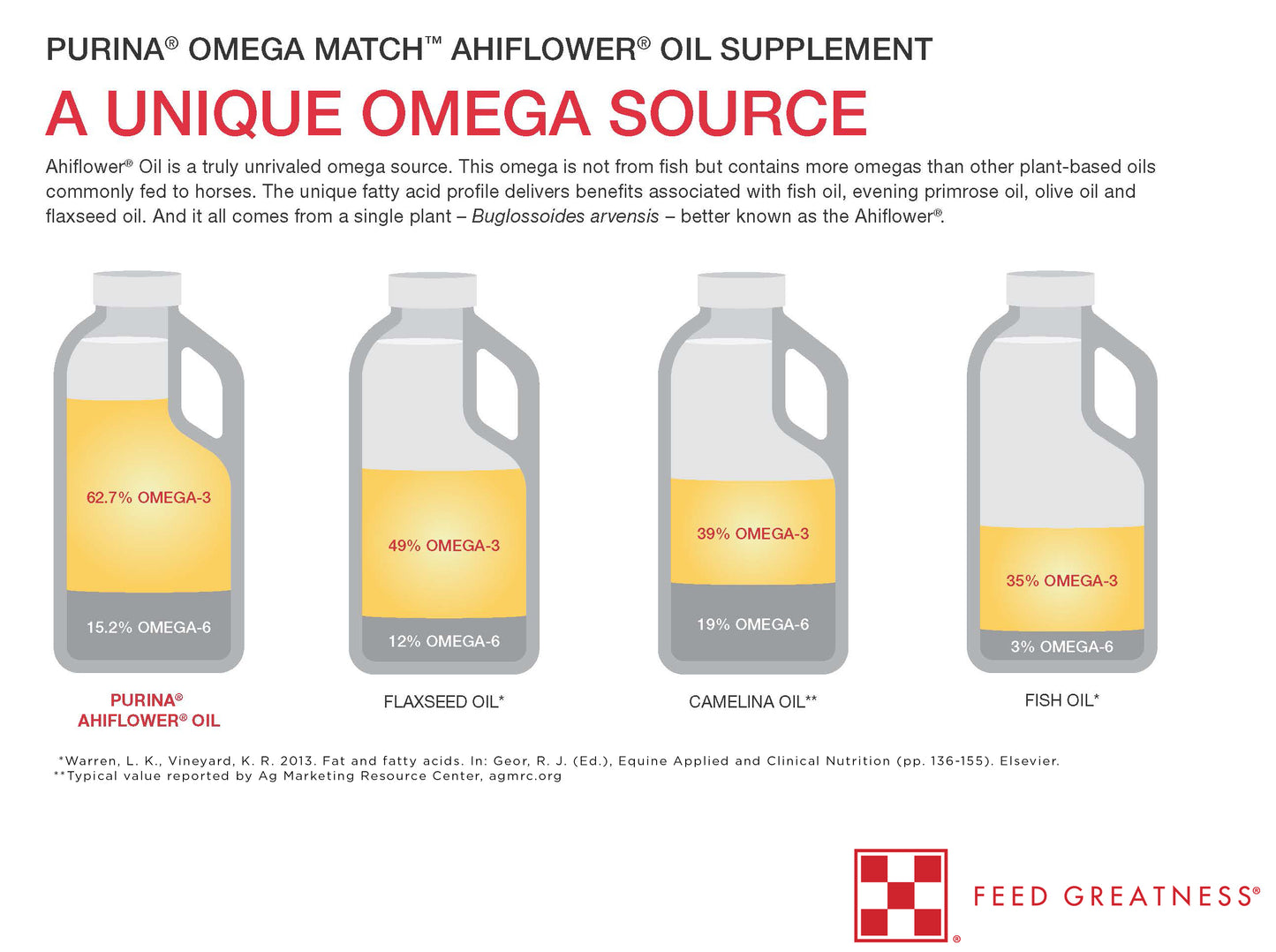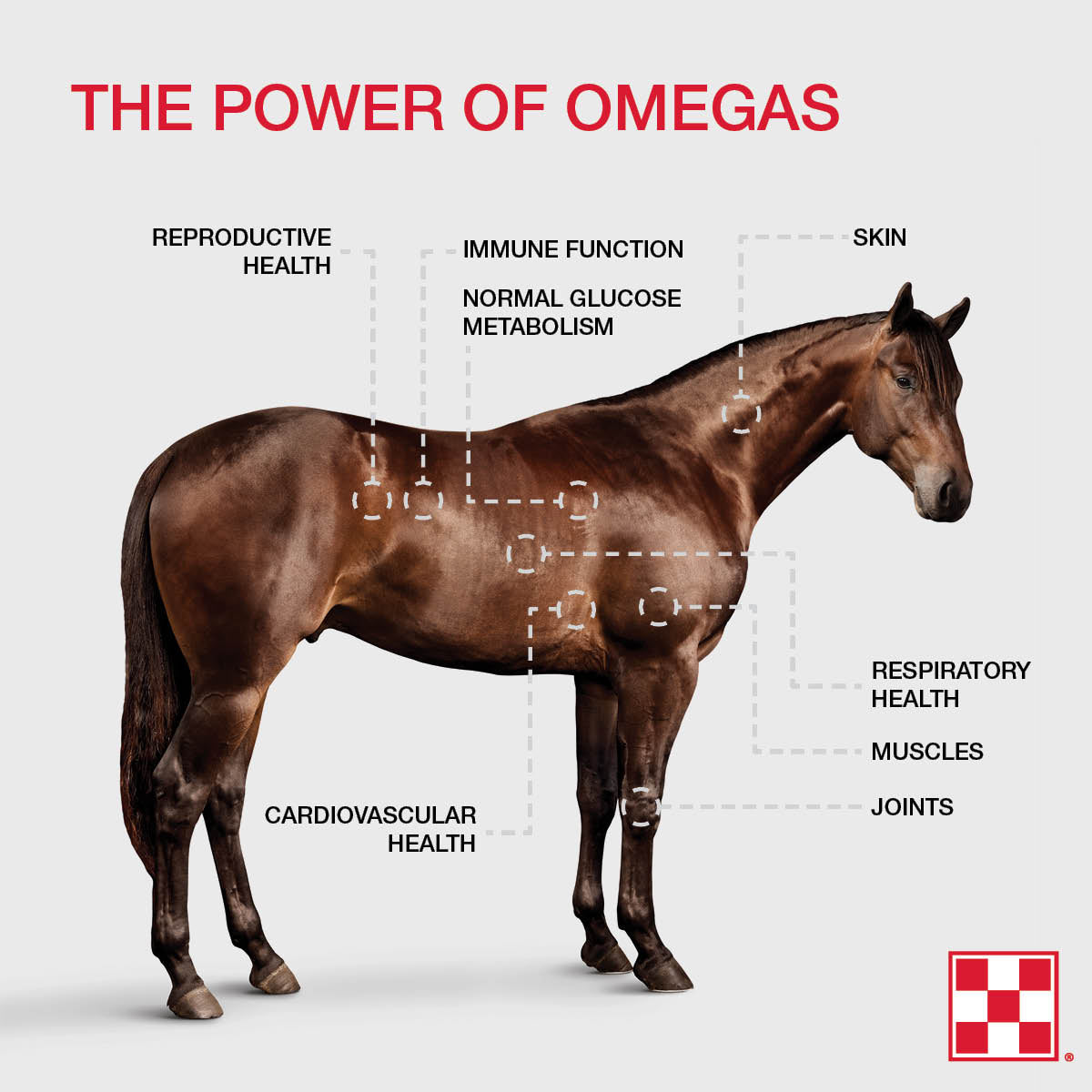 ACTIVE INGREDIENTS per 30 mL Ahiflower® (refined Buglossoides arvensis) seed oil, 27.6g per 30 mL
| | |
| --- | --- |
| Omega-3 fatty acid | 17.30g |
| Alpha-Linolenic acid (n-3) | 11.72g |
| Stearidonic acid (n-3) | 4.74g |
| Omega-6 fatty acid | 4.19g |
| Linoleic acid (n-6) | 2.79g |
| Gamma-Linolenic acid (n-6) | 1.39g |
| Omega-9 fatty acid | 2.79g |
INACTIVE INGREDIENTS Ascorbyl Palmitate, Mixed Tocopherols and Rosemary Extract.
DIRECTIONS FOR USE:
Administer orally 30 mL Purina® Omega Match™ Ahiflower® Oil supplement per day. For horses needing additional support, administer 60-90 mL per day. Store upright after opening.
Caution: If animal's condition worsens or does not improve, stop product administration and consult your veterinarian.
For use in horses only.
Warning: Not for human consumption.
Keep out of the reach of children and animals. In case of accidental overdose, contact a health professional immediately. This product should not be given to animals intended for human consumption.
Wash hands after feeding/handling animals.
Wash feed/water containers regularly.
For the widest selection of Purina products – along with personal service and know-how – check with your local retailer.