Help your rabbits grow and reproduce with Purina® Complete Rabbit Feed. Our pellets offer wholesome nutrition for rabbits of all ages, with the vitamins and minerals they need to live to the fullest. Try Purina® Complete Rabbit Feed for a balance of protein, fiber, essential nutrients and attractive alfalfa scent.
Regular price
Sale price
$28.49 USD
Unit price
per
Sale
Out of Stock
View full details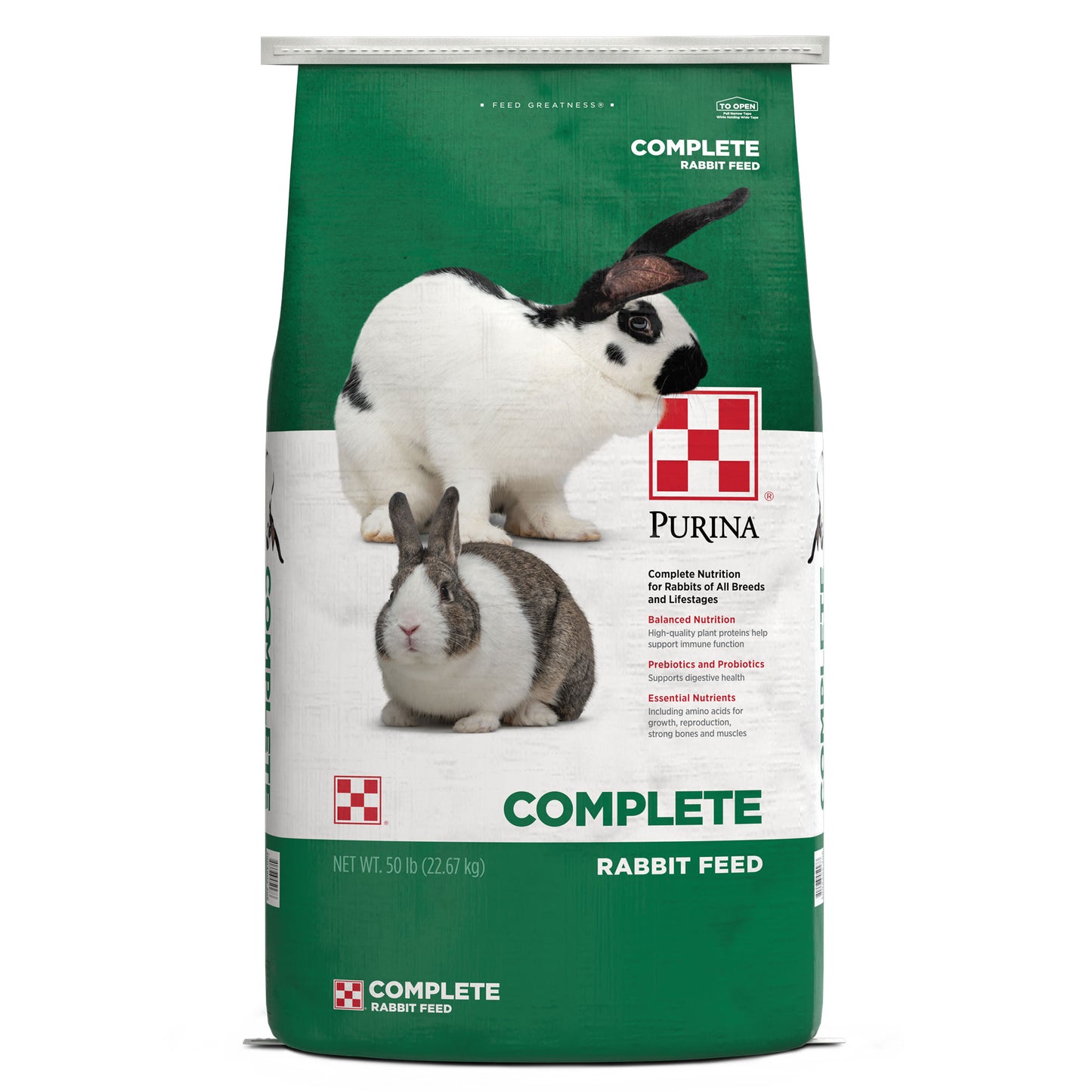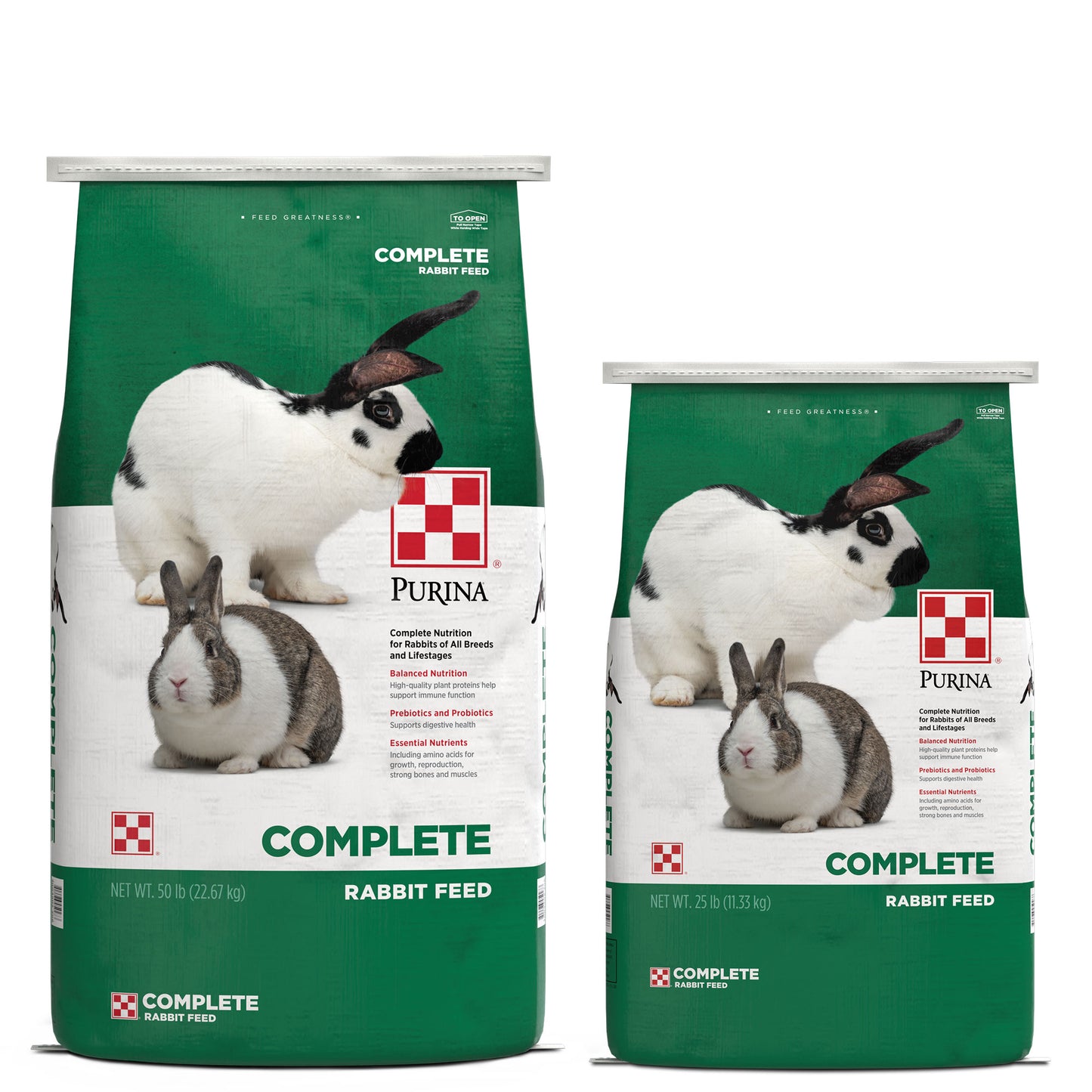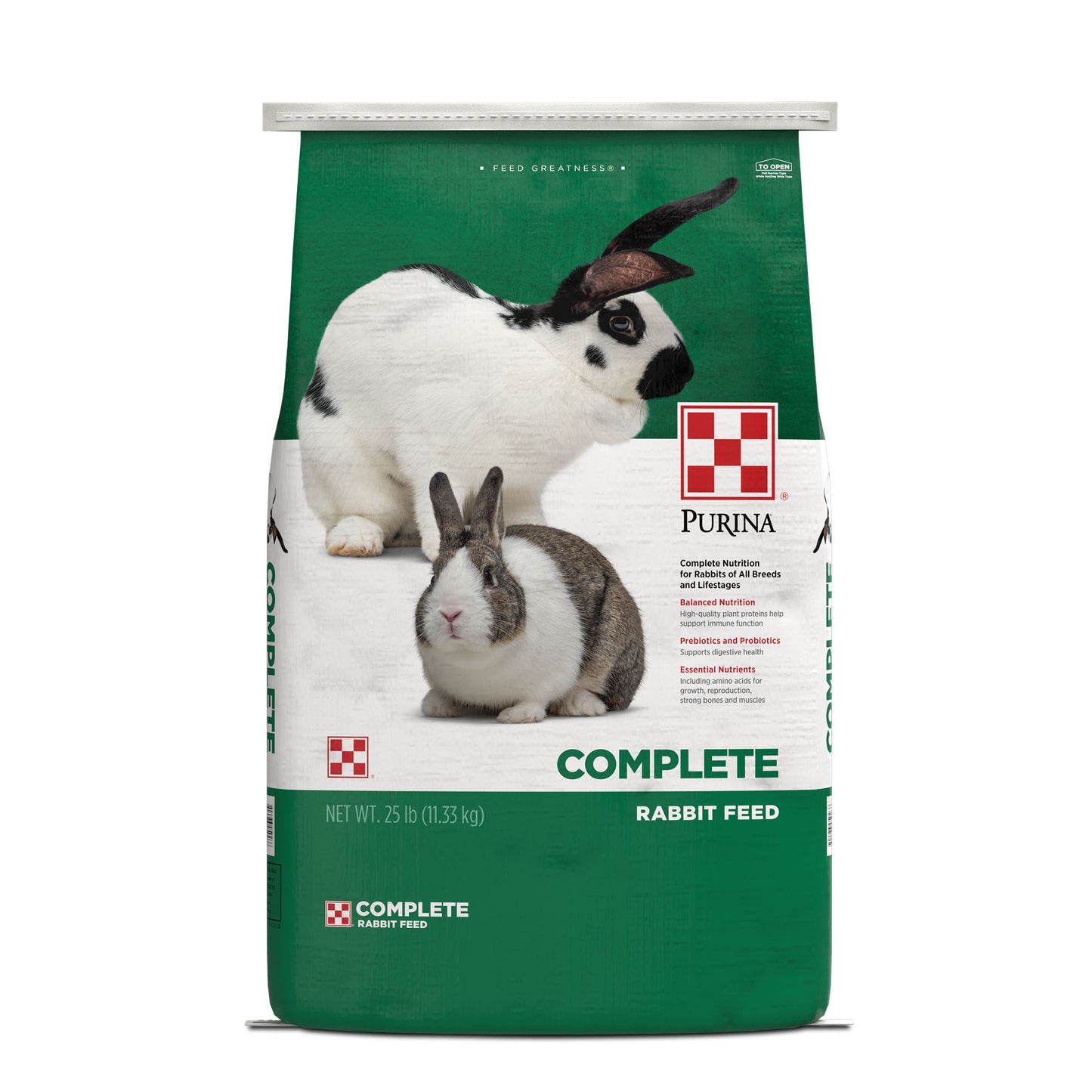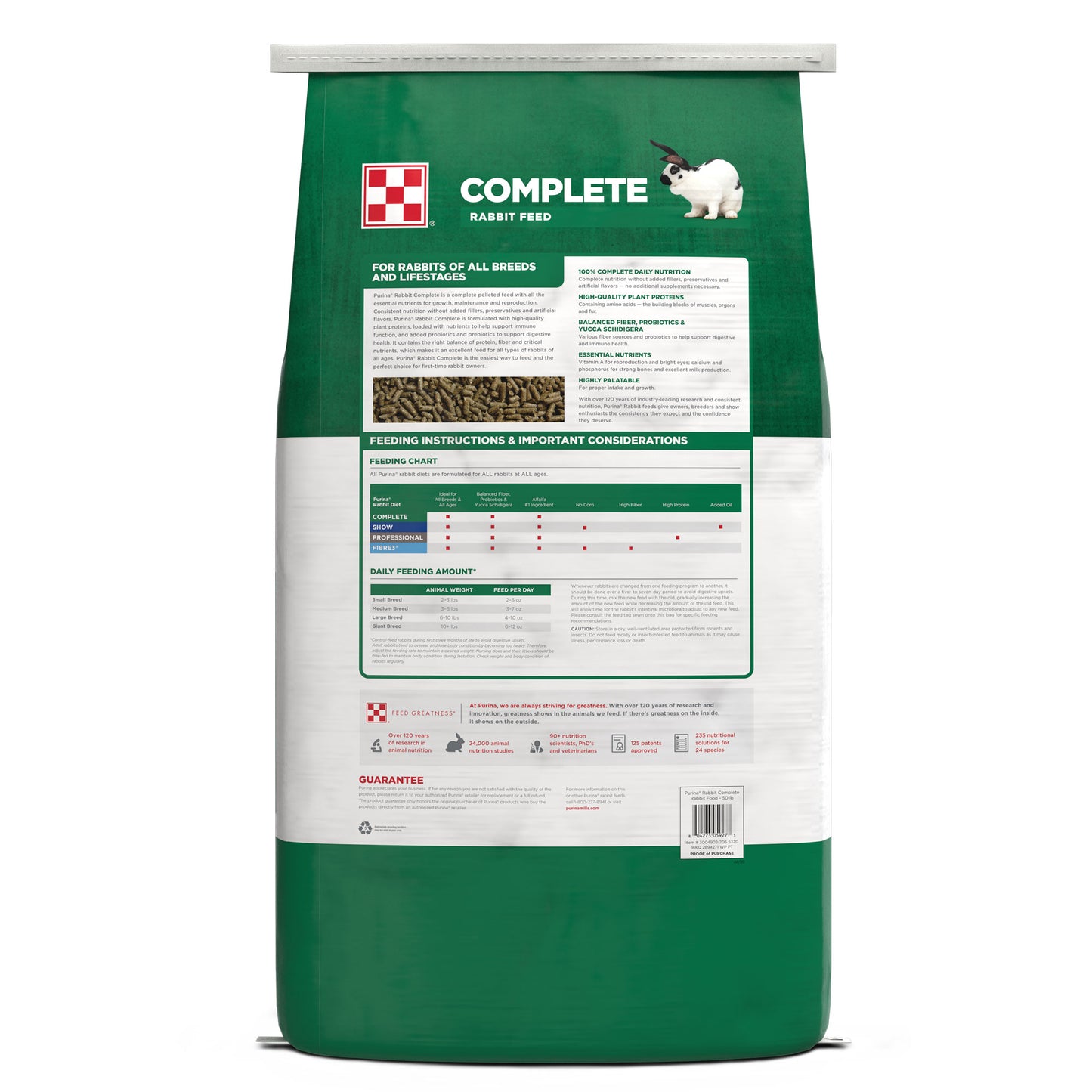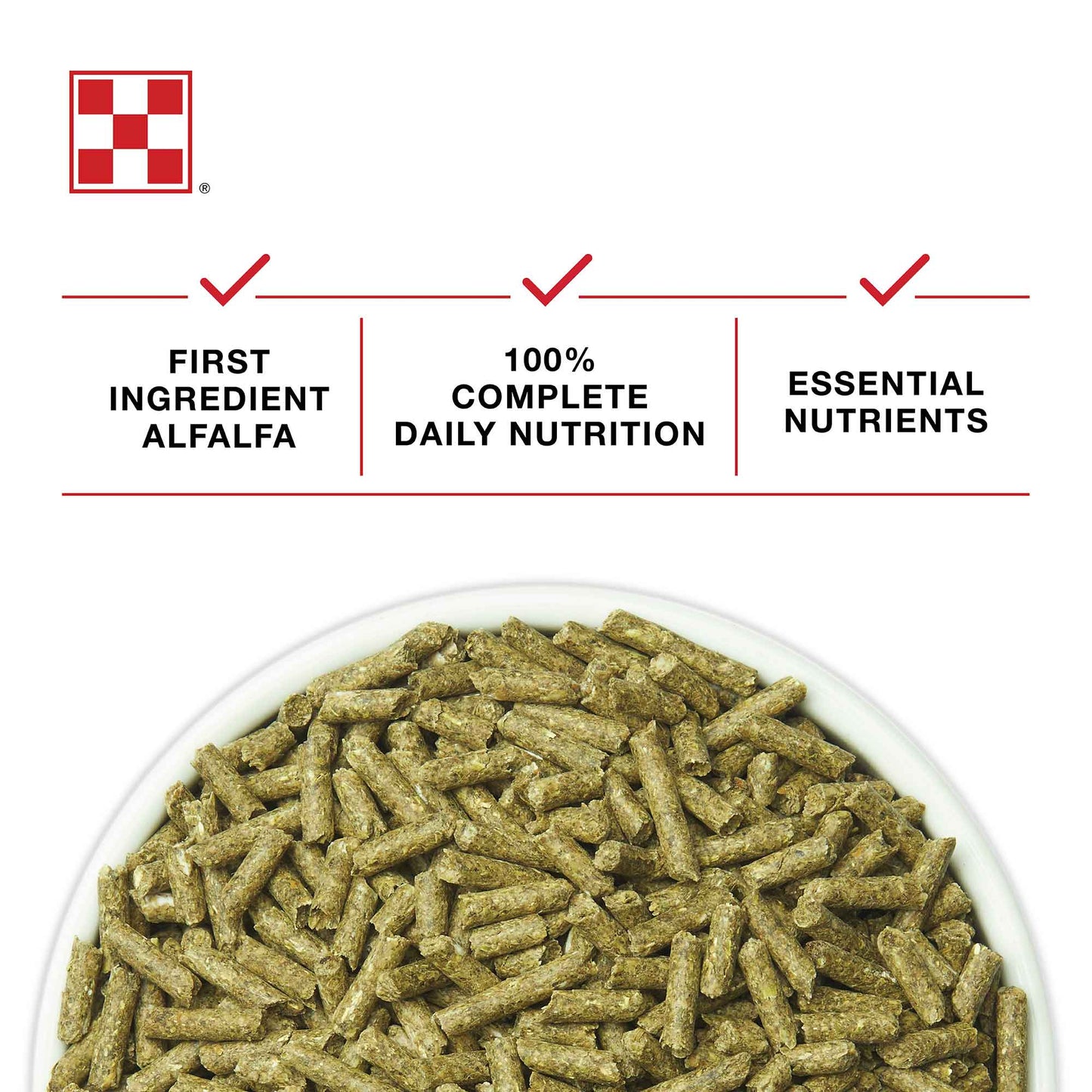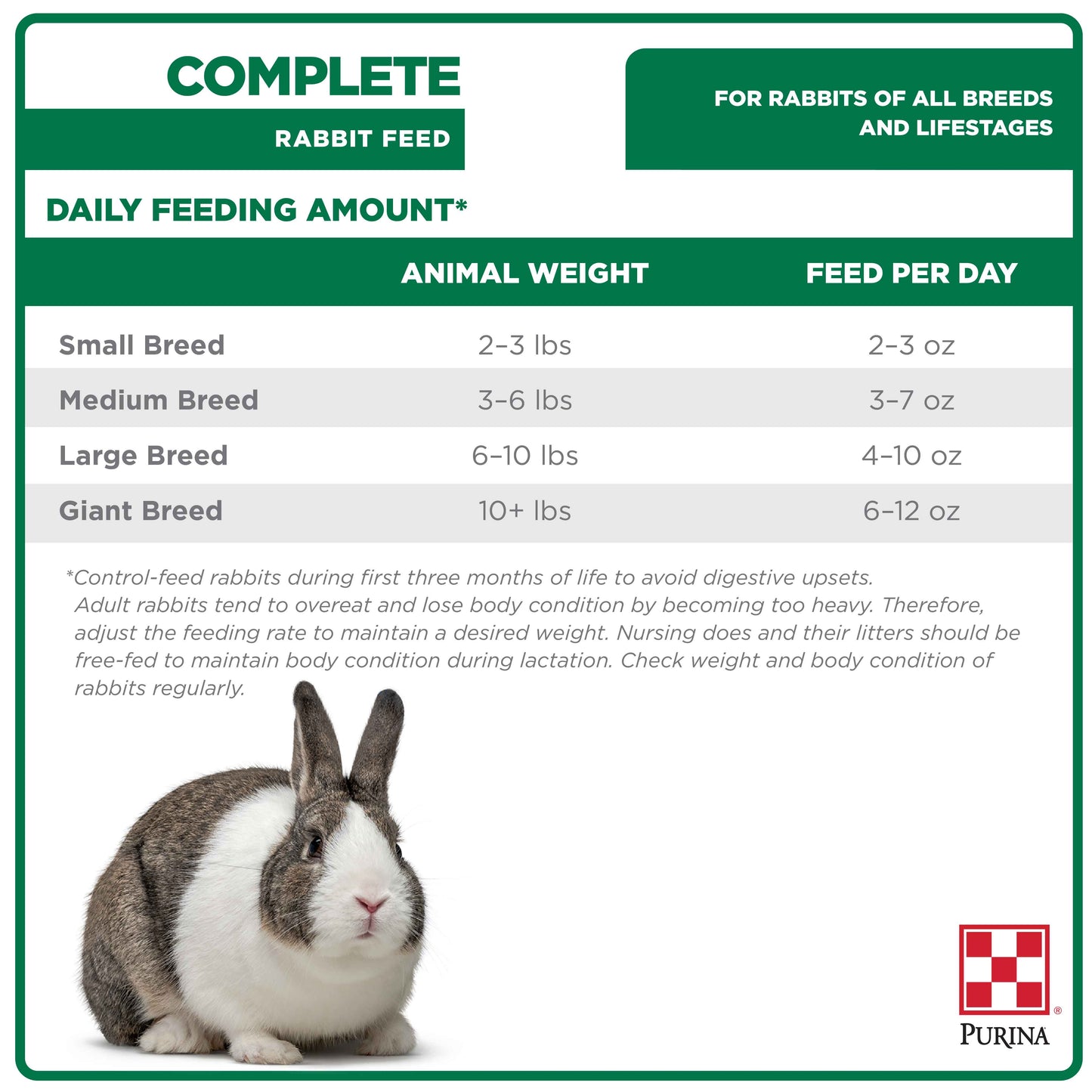 | Nutrient | Min / Max | Amount |
| --- | --- | --- |
| Crude Protein | MIN | 16.00% |
| Crude Fat | MIN | 1.50% |
| Crude Fiber | MIN | 17.00% |
| Crude Fiber | MAX | 20.00% |
| Calcium | MIN | 0.50% |
| Calcium | MAX | 1.00% |
| Phosphorus | MIN | 0.40% |
| Salt | MIN | 0.25% |
| Salt | MAX | 0.75% |
| Vitamin A | MIN | 4800 IU/LB |
| Total Microorganisms | None | 100000000 CFU/LB |
Feed adult, non-lactating rabbits approximately 1/2 ounce of this product per pound of body weight per day. For pregnant does, gradually increase the amount fed from 1/2 to 1 ounce per pound of body weight per day during the last two weeks of gestation. Nursing does and their litters should be free fed. Lactating does will consume 1 to 3 ounces per pound of body weight per day. Gradually increase the amount fed from the time of kindling so at the time the litter is one week old the doe is consuming all of the feed she will eat. Meat rabbits will consume an average of 4 to 5 ounces per day during the period from weaning to market.
Caution: Store in a dry, well-ventilated area protected from rodents and insects. Do not feed moldy or insect-infested feed to animals as it may cause illness, performance loss or death. USE ONLY AS DIRECTED
Management Practices: Follow these management practices: Feed requirements of rabbits will vary depending on their body weight, environmental temperatures, type of housing, and stage of production (maintenance, gestation, lactation, growth). Offer rabbits the amount they will clean up in approximately one hour (30 minutes if feeding twice daily) and adjust the amount to maintain condition. Do not overfeed. Mature rabbits tend to overeat, become too heavy and lose body condition. Adjust feed rates to maintain desired weight. Young rabbits will begin to consume feed when they come out of the nest box at approximately three weeks of age. Feeding programs are only as effective as the management practices followed. Provide plenty of fresh, clean water at all times. When changing animals from one feeding program to another, do so over a 5 to 7 day period. Mix the new feed with the old feed and gradually increase the amount of new feed mixed. It is always good practice to wash hands thoroughly after feeding and/or handling animals. Contents of bag are not for human consumption. Contains a source of live (viable) naturally occurring microorganisms.
For the widest selection of Purina products – along with personal service and know-how – check with your local retailer.